A hajnövesztés legtöbbször éveket vehet igénybe, néhány természetes összetevővel, és mindennapi trükkel, gyorsabb ütemben növesztheted hajkoronádat,emellett  pedig egészségesen ragyogóvá varázsolhatod!
Manapság egyre több embert érint a kémiai anyagok okozta allergia, melyet könnyedén kiküszöbölhetsz, ha bizonyos kozmetikumokat saját kezűleg házilag készítesz el. Legtöbben állandóan hosszú fényes hajkoronáról ábrándozunk, ám a türelem gyakran elfogy, mire elérnénk a kívánt célt. De lehet-e természetes úton felgyorsítani a hajnövekedést? A hajnövés sebessége bizonyos fokig a génektől függ, ám a környezeti tényezők sokszor meggátolják, hogy maximális gyorsasággal gyarapodjanak fürtjeink. Ha kiiktatod ezeket a környezeti tényezőket, és betartod az egészséges haj szabályait, felgyorsíthatod a folyamatot!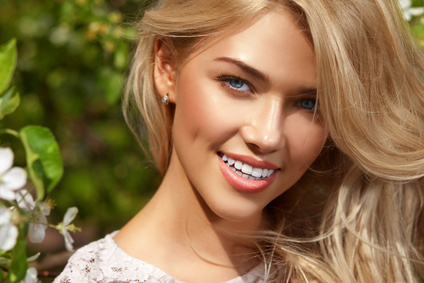 Megfelelő diéta
A megfelelő, egészséges étkezés erősen befolyásolja a haj növekedését. A különböző zöldségek, gyümölcsök és a fehérjék elengedhetetlenek az egészséges fürtökért. Mivel a haj szerkezeti felépítésében nagy részt fehérjék vesznek részt, így frizuránk hűen tükrözi az elfogyasztott fehérje minőségét és mennyiségét.  A túl alacsony fehérje tartalmú étrend ritkuló hajkoronát, és lassuló növekedési ciklust okozhat. Éppen ezért fogyassz kellő mennyiségben halat, tojást, babot, joghurtot, vagy szójafehérjét, ezek mindegyike kutatások szerint hatásosan serkenti a hajnövekedést.
Vitaminok
Az diétába fontos bizonyos vitaminokat is beépítened. A B6, a B8, és a B12 vitamin egytől-egyig az egészséges hosszú fürtök titkát őrzik. A B8 vitamin, más néven Biotin az egyik leghatékonyabb módszer a hajnövesztéshez, nagy mennyiségben tartalmazza a tojássárgája, a vese, a máj, és a borsó. A B12 vitamin pedig segít a fejbőrt egészségesen tartani.
Rendszeres fejbőr masszázs
Hajmosás közbe érdemes magunkat egy pihentető fejmasszázzsal kényeztetni, ez nem csak ellazít, de jótékony hatással van a hajnövekedésre is. Lehetőleg az egész fejbőrt érintsd masszázs során, és legalább háromszor egy héten ismételd meg a műveletet. Egy jó masszázs serkenti a vérkeringést, valamint nélkülözhetetlen tápanyagokhoz, és oxigénhez juttatja a fejbőrt és a hajhagymákat.

Ne vidd túlzásba a hajmosást!
A gyakori hajmosás, ahhoz vezet, hogy a szálak folyamatosan elnehezülnek, valamint a fejbőr is károsodik, emellett pedig a természetes olajok sem tudják kifejteni hatásukat, mely elengedhetetlen a gyors hajnövekedéshez. Fontos, hogy ha túl gyakran zsírosodik is a hajad, ne mosd meg minden másnap, egy idő után, ha békén hagyod, tovább fog tartani a friss mosás. Ideálisan maximum 2-3-szor mosd meg egy héten fürtjeidet.
Vágasd rendszeresen!
A töredezett hajvégek rendszeres vágása nagyon fontos, ha figyelmen kívül hagyod a hajvágást, azzal nem hogy növeszted, hanem épp hogy visszafogod a növekedést. Ne felejtsd el, hogy a hajnövekedés a gyökerektől kezdődik, amikor töredezett végeket levágják, a tüszőknek kevesebbet kell dolgozniuk, hogy kijavítsák a töredezett végeket, és inkább a hajgyökereket segítik a növekedésben.
Néhány hatékony hajnövesztő pakolás
Keverj össze 1 tojássárgáját, 1 kiskanál bojtorján olajjal, 1 kiskanál ricinusolajjal, és egy kiskanál aloe vera juice-al. Vidd fel a pakolást a hajtövekre, majd csavard be a hajad törülközőbe, hagyd rajta egy órán át, végül mosd le samponnal. Ismételd a műveletet havonta 2-3-szor.
Bors maszk
Keverj össze evőkanál bors tinktúrát, 1 evőkanál meleg ricinusolajjal, és 1 evőkanál hajkondicionálóval. Vidd fel a hajtövekre, majd csavard be a fejed törülközőbe, várj 1 órát, majd mosd le samponnal. Ismételd meg a műveletet havi 2-szer 3-szor.