Tóth Gabi, Dobó Kata, Karin Dragos, Hadnagy Tímea, Molnár Nini és Áron Eszter az Év legjobbjai
Március 23-án este újra rózsaszínbe borult a Duna-parton fekvő Várkert Bazár impozáns épülete hazánk egyik kedvenc magazinjának köszönhetően. Az évente megrendezett GLAMOUR Women of the Year gáláját idén is óriási érdeklődés övezte: több mint nyolcszáz vendég képviseltette magát a jeles eseményen, mely a női esélyegyenlőséget helyezte fókuszba. 2017-ben hat plusz egy kategória jelöltjei vehették át az elismerést: Az év divattervezője, énekesnője, színésznője, kiegészítőtervezője, közösségimédia-sztárja és lakberendezője az olvasóknak köszönheti a díjat, hiszen online szavazással ők döntötték el, hogy kié legyen a rangos szobrocska. A hetedik díjat Az év hősnői kapták a GLAMOUR szerkesztőségétől.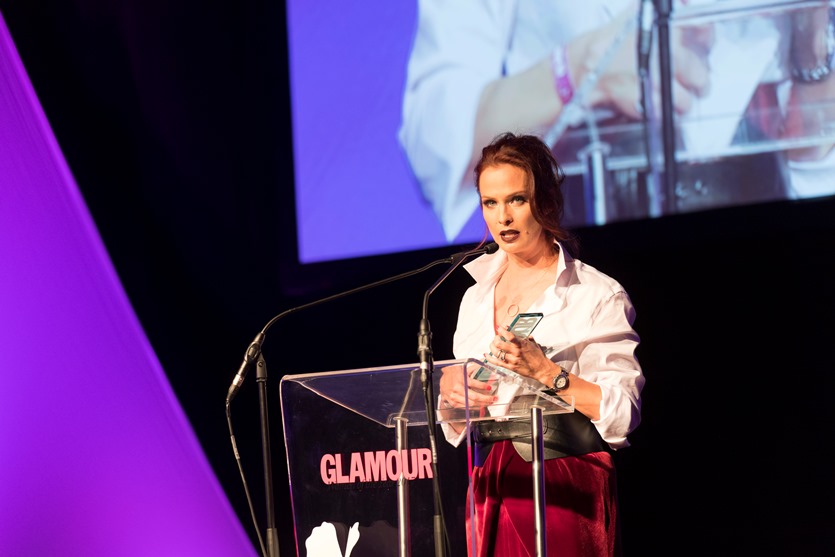 Tegnap este lezajlott a harminc jelölttel induló GLAMOUR Women of the Year gála, amelynek műsorát Árpa Attila vezette, olyan központi témákat boncolgatva az est során, mint az üvegplafon jelenség, a női egyenjogúság, a női szerepek és karrierlehetőségek. Munkásságukért, példamutató személyiségükért járó elismerésüket ünnepélyes keretek között vehették át a díjazottak az eseményen. Emellett külön kategóriában Az év hősnői díjat is átadták a magazin szerkesztősége által kiválasztott Üvegplafon blog két alapítójának, Gát Annának és Réz Annának.
Az olvasók kedvence az Az év színésznője kategóriában Dobó Kata lett, aki meghatottan lépett színpadra. "Bevallom őszintén, nagyon meglepődtem, hogy én nyertem, hiszen négy olyan pályatársammal együtt jelöltek, akiknek egytől egyig tisztelem a munkáját. Mindenesetre nagyon örülök, ez mindig egy fantasztikus visszajelzés számomra, hogy jól csinálom, azt, amit csinálok, és ezért az elismerésért nagyon hálás vagyok" – mondta Kata, akinek a nevét rejtő borítékot Pataki Ági bontotta fel.
Az év énekesnőjének választották az olvasók Tóth Gabit, aki Bokor Klárától, a Kiskegyed és a Blikk Nők főszerkesztőjétől vehette át a szobrot, már a második alkalommal.  "Nagyon sokat jelent nekem ez a díj! Egészen új projekten dolgozom most, amelyben már szerzőként is részt veszek. Nagyon nagy változásokat terveztem erre az évre és ez egy komoly visszaigazolás a közönségtől és a fentiektől, hogy jó úton vagyok!" – mondta Az év énekesnője, aki azzal is tisztában van, hogy hazánk nőinek példaképet is állít a díj megnyerésével.
Az év közösségimédia-sztárja idén Karin Dragos lett, akinek a The Four márka képviselői nyújtották át az üvegszobrot. Az év kiegészítőtervezője 2017-ben Molnár Nini, az ifjú tehetség a kerekesszékes aktivista és színésztől, Fenyvesi Zolitól kapta a GLAMOUR magazin elismerését. Az év divattervezőjének idén Áron Esztert választották a lelkes szavazók, akit Szombat Éva köszöntött a színpadon, míg Az év lakberendezője 2017-ben Hadnagy Tímea, akinek Szabó Antal, a Poli-Farbe ügyvezető igazgatója nyújtotta át a GLAMOUR-díját.
A díjátadón a legnépszerűbb hazai sztárok is megjelentek, hogy együtt örüljenek a díjazottakkal. A hajnalig tartó bálon a nyertesekkel együtt ünnepelt többek közt Palvin Barbi, Sarka Kata, Görög Zita, Dallos Bogi, Rubint Réka, Iszak Eszti, Józan László, Dukai Regina, Lakatos Márk, Puskás Peti és sokan mások.