Nem volt időd rákészülni a bikiniszezonra? Kimaradt a nyáreleji felkészülés? Ne ess kétségbe, számos gyors és hatékony módszer van arra, hogy testileg és lelkileg is szuper formába hozd magad és feltöltődj!

Iktass be egy lékúrát!
Sokkal energikusabb lesz a nyarad, ha beiktatsz egy 5 napos lékúrát, amely feltölt energiával és segít, hogy könnyebben áttérj a nyári étrendre! A Dr. Steinberger lékúra lényege, hogy 5 napon át zöldség- és gyümölcsleveket kell inni, amely az alábbi levekből áll: Bio Zöldbúzafű koktél, Bio vegyes zöldséglé, Ananászlé, Bio Céklalé és Bio Sárgarépalé. Éhezésről szó sincs, naponta ötször az előírás szerint egy, illetve két szelet rozskenyeret lehet fogyasztani! A kúra segít abban, hogy gyorsabban elérd a számodra ideális méreteket is, és ami ennél sokkal fontosabb: frissebbnek, energikusabbnak fogod magad érezni.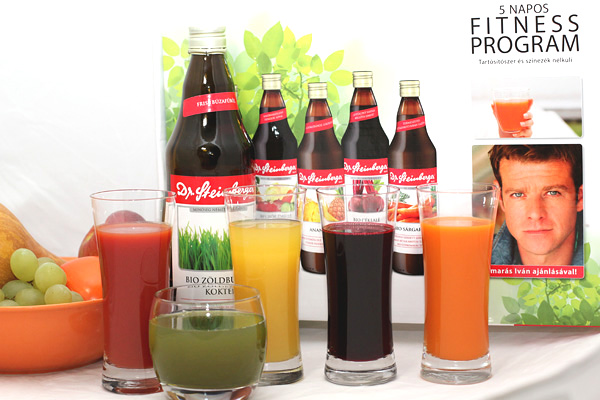 Irány a piac! Egyél sokkal több friss zöldséget és gyümölcsöt!
A tisztítókúra akkor igazán hatékony, ha utána is odafigyelsz a táplálkozásodra. Nyáron ráadásul sokkal könnyebb friss gyümölccsel, vagy zöldséggel helyettesíteni egy tízórait, egy uzsonnát, vagy a nassolást. Ha belefér az idődbe, szerezd be a piacon a hozzávalókat, ráadásul így nem fogsz felesleges dolgokat hazavinni, csak a friss idény gyümölcsöket és zöldségeket!
Kertészkedj!
Nincs kerted? Az erkély vagy egy apró sarok a konyhában is megfelel. Ha növényekkel foglalkozol, egy kicsit olyan, mintha meditálnál – megnyugtat, feltölt, türelemre tanít és segít az éppen aktuális történésekre koncentrálni. A saját fűszerrel (friss bazsalikommal, rozmaringgal, mentával) vagy paradicsommal készült ételek pedig sokkal finomabbak lesznek!
Legyen a mozgás örömforrás!
Soha nem késő elkezdeni! Találd meg azt a mozgásformát, ami örömet okoz, próbálj ki többféle sportot, táncot, és bátran válts, ha nem találtad meg az igazit. Van, akinek egy jógaóra a mennyország, másnak a futás, a falmászás, vagy egy alapos kondizás jön be, és az is lehet, hogy a korábban megszokott edzést hirtelen valami másra cseréled majd. Nemcsak az a fontos, hogy fokozatosan fejlődj és formáld az alakod, hanem az is, hogy közben jól érezd magad. Enélkül minden erőfeszítés felesleges.
Szánj időt magadra!
Néha nem könnyű elengedni a határidőkkel, a bevásárlólistával, vagy a másnapi prezentációval kapcsolatos gondolatokat. Tanulj meg valamilyen gyors relaxációs technikát, és próbáld meg kiiktatni a stresszt, legalább egy kis időre! Tegyél egy nagy sétát a parkban, vegyél elő egy jó könyvet, készíts valami szépet, vagy csak pihenj. Nagyon fontos, hogy szánj időt magadra, és töltődj fel, lehetőleg minden nap!